Ask SUBARU Timmy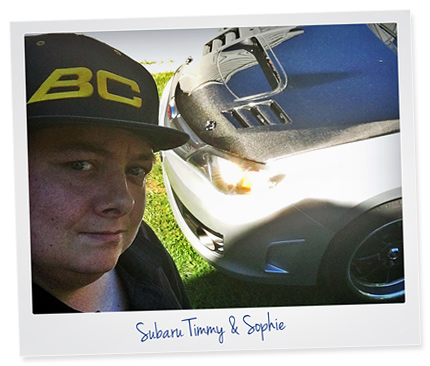 Hello, I drive a Subaru and I named her Sophie. More about the name sake later.
My name is Timothy Markland and I live in Peabody, Massachusetts. I have worked as a paramedic for almost 12 years now. Two days a week on the ambulance and five days to go to car shows, meets and events. If I can't fix Sophie myself then it goes to my local subie shop. Boxer Motorworks in Salem, MA. They take good care of me. Anything I need they are always on top of it.
For almost 30 years I have been into anything to do with cars. My first was a beat up 1984 Pontiac sunbird, but that didn't stop me from trying to modify anything from its stereo to window tint. I enjoyed it but my life sure changed the day I bought my first Subaru. Since I was fresh out of high school I have always wanted a top notch Subaru. At that time it was a 2004 Subaru WRX STI, that came with no radio or sunroof, a pure rally machine. Finally in 2012 I decided to buy my first Subaru. I went with a 2008 Subaru WRX STI. A hatchback and a wide body design that I still race and daily drive today. When it comes to customizing cars most people are either A: All about looks or B: All about power. I like a bit of both. It is obvious that true power can not be harnessed with out great suspension. That's why all my friends know that my Subaru "Sophie" is a monster when it comes to corners and hard carving.
By the way "Sophie" was named after a patient I used to transport a long time ago. She always told me to make sure I get that car I talk about so much. She was a special person and has since passed. When I finally ended up getting my subie, I felt it was only proper to honor her by naming my car Sophie.
I installed BC Racing Coilovers on my car with swift springs and it was the best decision I ever made. As a Subaru Brand Ambassador I welcome any questions you might have. Please feel free to contact me through the form below.